The Australian Cricket Team is the most successful of all nations across history in test matches, with an exceptional win percentage of 47.05%. An important part in reaching this milestone can be said to belong to the opening batsmen, a role in which can be a particularly daunting task for many basemen, with added responsibility and pressure piled on to get the batting side off to a good side. Here are some of Australia's greatest opening combinations over the years who have managed to be model exhibitors in showing the importance of getting their team off to a good start.
1- Bill Lawry and Bob Simpson
The duo that owns the honour of holding Australia's greatest first wicket partnership is Bill Lawry and Bob Simpson, who put on 382 against the West Indies in 1965, with both Lawry and Simpson finishing with double centuries to their names. Simpson, a New South Welshmen, captained Australia in 39 tests and boasted a high score of 311 in what was his first ever century for his country. Simpson would also go on to become one of the first full-time coaches of Australia in the mid-1980s, leading Australia to World Cup glory in 1987. Known primarily for his role as a Channel 9 commentator, Bill Lawry also boasted a terrific record in the baggy green, averaging 47.15 and amassing 13 centuries in his 67 test career. Of those 67 tests, 29 of them were under the helm of Australian captain, a position he held from 1968 to 1971. As an opening combination, Lawry and Simpson were especially formidable, scoring 3596 runs from 1961 to 1967 in 62 innings at a huge average of 59.93, the highest average for any opening combination to have batted in more than 50 innings. Many years on, Lawry and Simpson still stand out as arguably the greatest opening combination in our country's history in test cricket.
2- Justin Langer and Matthew Hayden
One of Australia's greatest periods of success in test cricket can be largely attributed to the contributions of one particular opening pair, that of Western Australia's Justin Langer and Queensland's Matthew Hayden. During the time period of 2001 and 2007, an era which saw Australia equal the record for most consecutive test victories, Langer and Hayden were at their best, demolishing attacks at the opening of the innings. Both left-handers, the styles of both batsmen complemented each other- the fashionable Langer along with the dominant and brutish Hayden created a formula that gave opposing teams headaches and revolutionized team's approaches to opening an innings. Across their time together, the pair amassed 5655 runs at an average of 51.45, second only to West Indians Gordon Greenidge and Desmond Haynes, with the pair's highest partnership of 255 runs coming against Sri Lanka in 2004. Individually, both Langer and Hayden would retire with outstanding averages of 45.25 and 50.73 respectively, putting the duo up there with the all-time great opening combinations.
3-Mark Taylor and Michael Slater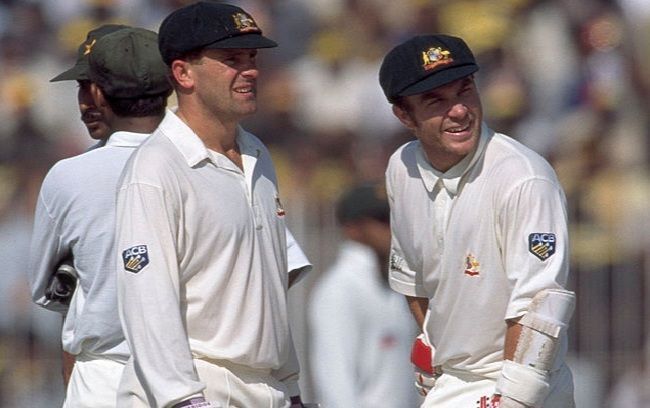 In a time when Australia was re-establishing itself as the greatest test cricket team in the world, the partnership of captain Mark Taylor and Michael Slater provided the team with a strong backbone to build a culture of success from. In a career that spanned 104 tests, Taylor established himself as not just one of the greatest batsmen the country had ever seen, but as one of the country's best captains, leading Australia in 50 test matches at a win percentage of 52%, while also scoring the nation's equal highest individual score of 344*. As Taylor's opening counterpart, Slater's record was also impressive with a career average of 42.83 and a highest score of 219, in strokeplay described as adventurous. The two New South Welshmen's left hand-right hand combination proved to be an enigmatic partnership for opposing teams- in 78 innings the duo managed to score 3887 runs at an average of 51.14, with a highest partnership of 260 against England in 1993. In a tour famous for Shane Warne's "Gatting Ball", Taylor and Slater's partnership set Australia on course to an innings victory, helping Australia towards regaining The Ashes.
4- Geoff Marsh and Mark Taylor
Another combination involving the legendary Mark Taylor is a pair who carried Australia to a famous series victory over England in 1989 to regain The Ashes. Batting with Western Australia's Geoff Marsh, father of current Australian cricketers Shaun and Mitch Marsh, the two managed to combine for a mammoth partnership of 329, the second highest partnership for the first wicket in Australian history. The two batted the entire first day of the 5th test in Nottingham without losing their wicket, only the third time in Test match history that a pair of opening batsmen had managed to remain unremoved after a full first day's play. In what was his first test series, the young Taylor managed to score 839 runs across the six test series, including 219 in the same match as his 329 run partnership with Marsh. Although being more renowned as a limited-overs cricketer, Marsh's dogged determination at the top of the order proved to be the perfect match for Taylor's masterful left-hand batting. Another left hand- right-hand combination, in 47 innings the pair managed to score 1980 runs at a respectable average of 44.
5- Chris Rogers and David Warner
A partnership made up of two players who are seemingly polar opposites in their approaches to batting, Chris Rogers and David Warner were a surprisingly prosperous pair opening the batting for Australia. Rogers, the veteran left-handed accumulator who had pushed his way back into test selection after five years of prolific scoring in domestic cricket, joined Warner back in the Australian team for the 2013 Ashes in England, viewed as someone who could bring experience back to the Australian side following the retirements of Ricky Ponting and Michael Hussey. Rogers's journey couldn't be more contrary to that of Warner's, the quick scoring young beast. Plucked from obscurity to make his International T20 debut without any domestic experience, Warner was once viewed as a T20 specialist but now has become an accomplished cricketer in all three formats of the game. Despite their differences, Warner and Rogers were a very successful combination for Australia, scoring 2053 runs together at an average of just over 50. The duo's highest partnership came in Warner's home test, at the SCG in 2015 when the two managed to put on 200 for the first wicket, with Warner reaching 101 and Rogers 95.