With the huge media contingency and in-depth coverage of the AFL that we see in 2018, plenty of predictions are thrown out by coaches, journalists and officials alike, mostly with success rates that are more miss than hit. With the benefit of hindsight, we take a look at the worst of the worst of these proclamations surrounding the AFL from 2018 and across history- the examples that turned out completely different than that set out by their initial authors.
The Kennett Curse
Possibly one of the worst calls of the entire list, in 2009 former Victorian Premier and Hawthorn president Jeff Kennett famously claimed that his club's opponents in the 2008 Grand Final in Geelong lacked the mental motivation for a victory that his club had. "What they don't have, I think, is the quality of some of our players; they don't have the psychological drive we have. We've beaten Geelong when it matters."
This comment would then go onto spur an emotion-charged eleven-game winning streak for the Cats against the Hawks, as the Geelong players vowed never to lose to Hawthorn again in spite of Kennett's comments, creating the biggest rivalry of the decade in the AFL
Robert Walls and West Coast
Former Carlton premiership player and coach Robert Walls foretasted a particularly bleak season for the West Coast Eagles ahead of the 2018 season, predicting that the club would succumb to last place on the ladder off the back of some considerable retirements from the previous season. Midfield guns Sam Mitchell and Matt Priddis both called time on their careers in 2017, leaving some big holes in the West Coast Midfield.
"They'll take a couple of years to get themselves up and going again. I think it will be a lean season for the Eagles."
However, the Eagles currently sit second on the AFL ladder, far away from Walls' initial prediction of a wooden spoon. Walls also predicted that Fremantle would make the eight for the first time in three seasons, however, the Dockers are well out of finals contention with just a few rounds of the AFL season to go.
Walls did go on to retract his West Coast prediction in the middle of the season, however, this undoubtedly is still a call that's gone wrong.
Dermott Brereton- "Dustin Martin is a waddler".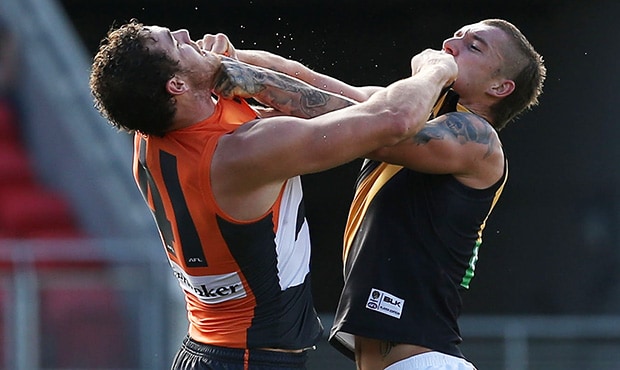 Dermott Brereton clearly did not anticipate the ability of a young Dustin Martin in 2010. In just his first season as a Tiger, Martin reportedly had been given an offer of $2.4 Million from the burgeoning GWS franchise in 2010, an offer that Brereton urged him to take, claiming that the young Richmond midfielder would "turn into a waddler"
"He might still be a very good player, but he'll have to be a very good inside player," Brereton claimed.
"His currency right now, in relative terms to the market, is as good as it's ever going to be."
Martin would of course stay loyal to his Tigers, going on in 2017 to arguably have one of the greatest individual seasons in the AFL's history, claiming the Brownlow Medal, Norm Smith Medal, Leigh Matthews Trophy, Gary Ayres Medal and a Premiership Medal in a freakish season which saw him lauded as one of the game's best. A far cry from the "waddler" that Brereton proclaimed all those years ago.
Peter Schwab- "Hawthorn will win the 2004 premiership"
In the pre-season of 2004, Hawthorn coach Peter Schwab did the unthinkable, declaring his team would win the 2004 premiership. The Hawks had finished ninth the previous season, but Schwab had the right to feel optimistic for his side's fortunes in the coming season after they had been given an inspirational talking to by former Melbourne forward and now media analyst Garry Lyon. Schwab set his side a goal that is rarely proclaimed to the footballing world, something which would ultimately go back to haunt him in the future.
The Hawks would go on to crash to the bottom of the ladder with just two wins and sixteen loses by the time Schwab resigned as coach in July of 2004. Certainly a bold prediction that did not come off quite in the way that Schwab had intended. However, the Hawks would go on to win a premiership in the coming years, albeit under the tutelage of Alistair Clarkson.
Mark Maclure/ David King claim Carlton is close to a premiership
In 2016 ABC and Fox Footy commentator Mark Maclure, a former Blue proclaimed that Carlton was closer to premiership success than Richmond, who had at this point had not won a premiership since 1980. In an article for The Age in 2016, Maclure rated Carlton the second most likely club to win a premiership in the next five years out of Melbourne's four powerhouse clubs. (Carlton, Collingwood, Essendon, Richmond)
Richmond, of course, would go on to win the premiership a season later, despite Maclure claiming the Tigers "Have too many list cloggers," while Carlton would still be languishing at the bottom of the ladder nearly two years later, leaving egg on Maclure's face.
Fellow Fox Footy colleague David King would make a similar prediction this year, this time claiming the Blues were closer to a premiership than rivals Collingwood, claiming Carlton had more "genuine star factor players" than the Magpies.
Fast forward to now and the 'Pies currently sit in the top four with only a few rounds left in 2018, proving they are true contenders this season and in the future.
Sam McClure and Rory Sloane
AFL journalist Sam McClure made this claim during this year on Rory Sloane's future at Adelaide. At this point, Sloane had yet to sign a renewal on his contract at the Crows, leading to massive speculation in the AFL media that he would return to his home state of Victoria to play for St Kilda ahead of the 2019 season.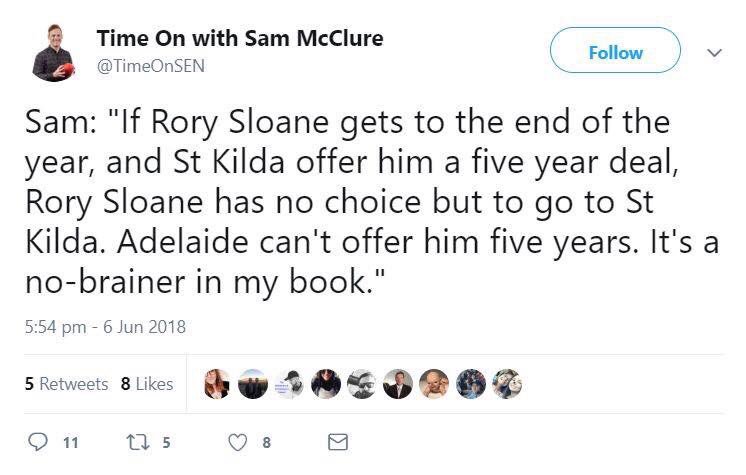 A month later, Sloane would finally sign the five year deal with the Crows, something that McClure labeled impossible in his tweet a month prior.
 Mick Malthouse's claim
In March 2015 Mick Malthouse said in a press conference that he "couldn't see Carlton losing a game" by May he was sacked by the club in a embarrassing period for Malthouse and Carlton after just breaking the record for the most games coached in AFL history. Carlton ended up winning just four games for the year showing both Malthouse and the club extremely overrated the list at the time.
Sam Mitchell wouldn't get a game at any other club
It's hard to believe Wayne Carey said this during live commentary when he said it three years ago as well post Mitchell's career. During a regular 35 disposal game against Carlton in 2015, Carey said "Just having a look at Sam Mitchell, I want to ask you a question – would he get a game at any other club?" This was met with criticism from not only social media but his on air commentators at the time. Just two years after these comments Mitchell went on to play a season with West Coast showing he could indeed get a game at another club and in 2016 he was handed the 2012 brownlow medal after original winner Jobe Watson was stripped of the medal.