The Milwaukee Bucks are the current favourites to win the 2019-20 NBA Championship. Right now, most sports betting companies will give you around $3.40 on the Bucks to win it all this year. Giannis Antetokounmpo is the betting favourite to repeat as MVP of the league. Somehow, the Greek Freak has actually improved on his dominant 2018-19 MVP season. And so, it seems, have the Bucks. By the numbers, the Bucks are a very good team—historically good in fact.
Sitting at 49-8 midway through the season, the Bucks have a realistic chance to become only the third team in league history to win 70 games. On February 24th, Milwaukee broke the 73-9 2015-6 Golden State Warriors' record as the fastest team to clinch a playoff berth. In their first game after the All-Star break, the Bucks battered a hobbling Philadephia 76ers outfit—a team built deliberately in the offseason to stop them—by 21 points. Such blowout victories have become typical of Milwaukee's season. The Bucks lead the NBA in point-differential. In fact, if the Bucks can maintain their current +12.4 point-differential, they'll eclipse the 1971-2 Los Angeles Lakers and finish the regular season with the league's best-ever point-differential. Meaning that on a nightly basis, this current Milwaukee Bucks roster is the most dominant regular-season team in NBA history.
A Dominant Defense
The Bucks are the league's best defensive team with a defensive rating of 101.6—meaning that per 100 possessions, the Bucks only allow 101.6 points. That means that each offensive possession an opposing team has, they're managing a little over a single free throw per attempt. Zach Kram of The Ringer recently posited that the Bucks have one of the best defenses of all time. When adjusted for pace and differences in scoring eras, Milwaukee's defense is 8.2 points per 100 possessions better than the NBA average. That's good enough for the fourth largest differential in the history of the league.
Antetokounmpo is a big reason why. For players who've played 40 or more games this season, Antetokounmpo is second in defensive rebound percentage (19.7%), 1st in defensive rating (97.3), 1st in defensive win shares (4.0), and 1st in defensive plus-minus (5.1). Antetokounmpo has also been the league's best at-rim defender this season—by a wide margin. Opponents who challenge Giannis at the rim have an average field-goal percentage of only 41.9%. Yet Giannis isn't the Bucks' only defensive ace. Milwaukee's roll out a trio of stellar rim protectors each night. In fact, second-best on the list of opposing field-goal percentage in the league is the Bucks starting center, Brook Lopez (46%). Third is his twin brother and backup center, Robin (46.4). The former Lopez twin particularly is enjoying a strong defensive season, currently second in the league in blocks (2.5 per game). Teams are quite literally scared to drive to the hoop against the Bucks. Opposing teams average less than 14 layups and dunks against the Bucks per game—an absurdly stout league-leading figure. The Bucks dominant paint protection encourages opposing teams to jack up three-point attempts to avoid driving to the hoop. Milwaukee leads the league in opposing teams 3 point attempts and fewest shots at the rim. With Milwaukee's length and versatility on the perimeter (remember, Eric Bledsoe was first-team All-Defense a season ago), these are rarely high quality looks. Cleaning the Glass rates Milwaukee's 3 point percentage allowed (outside of garbage time) as 20th in the league.
An Offensive Dynamo
It isn't just Milwaukee's dominant defense which has them atop the league table. Anyone who has watched the Bucks over two past few seasons or even a Mike Budenholzer team over the past decade understands that Milwaukee's head coach is an offensive strategist. The Bucks have the NBA's third-best offense by offensive rating (113.4) this season, netting 119.7 ppg. Budenholzer reshaped the Bucks offense a year ago into a four-out (and sometimes five-out) system built to maximise Giannis' dominant driving ability. Of the 75 players who have attempted 200 or more shots in the restricted area this season, Giannis has the 8th highest field goal percentage (76%). And he's done so on over 500 attempts. If you were to expand that statistic for players who have actually attempted 500 shots in the restricted area, only Giannis and Montrezl Harrell make the list and Giannis' percentage is 5.5% greater than the Clippers' paint beast.
Part of Giannis' success driving the basket is attributable to the spacing created by the shooters Milwaukee have surrounded him with. If teams attempt to collapse on Antetokounmpo, he's able to kick the ball out to shooters at virtually every position. The Bucks have five players averaging about the league average 35.6% from behind the arc, including George Hill's league-leading 50.8%. Even those players shooting below that figure this season are bona fide threats from behind the arc. In fact, if you scan the Bucks roster, only Thanasis Antetokounmpo, Giannis' sparingly played older brother, could be considered a non-shooter. And Thanasis has only appeared in 15 games for an average of 4 minutes per all season.
The departure of Malcolm Brogdon to Indiana in the offseason was expected by many to be devastating for the Bucks. Milwaukee opted to avoid the luxury tax by paying Brogdon after already offering deals to Khris Middleton and Eric Bledsoe, letting the reliable combo guard walk. Brogdon was coming off a career-best season in which he netted 15.6 points a game on a stellar effective field goal percentage of 57.5%, becoming only the 8th member of the heralded 50-40-90 club (50% shooting from 2-point range, 40% from 3-point range and 90% from the free-throw line). Though despite Brogdon's borderline All-Star form in Indiana emphasising his loss, his departure hasn't been noticeable for Milwaukee. The Bucks have managed the loss of Brogdon with the addition of veteran Wesley Matthews, the increased role of Donte DiVincenzo and the resurgent play of George Hill. In fact, much of Milwaukee's improved play can be attributed to the collective improvement of the roster under Head Coach Mike Budenholzer's system. Only Antetokounmpo averages more than 30 minutes a night and even Giannis only plays 30.9 minutes per game. For context, that means that Antetokounmpo is the only player on the Bucks roster within the top 100 players for minutes played in 2019-20.
Then What's the Issue?
Despite the Bucks statistical dominance this season, they aren't without flaws. Anyone who has watched the NBA for a reasonable period of time knows that it's easy to overvalue regular-season success. Cast your mind back three seasons ago to the 65 win Houston Rockets. Such was the dominance of the Rockets that season that many pundits favoured them over the Golden State Warriors, despite their offseason addition of Kevin Durant. The legacy of the 2016-17 will forever be marred by the injury sustained by Chris Paul in Game 5 of the Western Conference Finals but even still; it's a timely reminder that some teams are built for regular season rather than playoff success. There's a telling difference between the pressure to perform on a December night in Milwaukee against the Cavaliers and rising to the occasion against the Celtics in the Boston Garden come the Eastern Conference Finals. As we've seen, that pressure has been too much for some members of the Bucks in the past.
Milwaukee's primary offensive creators behind Antetokounmpo—Eric Bledsoe and Khris Middleton—have been minimised in each of the Bucks last two Playoff runs.
Bledsoe capitulated two seasons ago against the Celtics in the first round of the 2018 Eastern Conference Playoffs. He was routinely embarrassed by backup guard Terry Rozier, including one memorable crossover and a straight disrespectful post-game interview. Bledsoe's scoring average dropped by four points per game in that series from his season average with Milwaukee, along with all of his shooting percentages. Bledsoe is a below-average shooter. His best role is a secondary creator and ball-handler. But as the pressure increases, the pace slows and Giannis spends a greater percentage of the game on the floor, Bledsoe's effectiveness decreases.
Middleton has been excellent for Milwaukee thus far this season. He's operating out of the mid-post with greater regularity than in years past—playing to his strengths as a midrange scorer and creator. Though Middleton's previous playoff runs have left much to be desired. Outside of a strong 7-game campaign against Boston that same year, Khris Middleton has been an inconsistent playoff performer. The versatile wing turned in a disappointing performance in three rounds last year. He too experienced dips in his shooting percentage and overall points production. Against Toronto in the Eastern Conference Finals, Milwaukee's second-leading scorer dropped to a meagre 13.7 points per game on an effective shooting percentage below 50%— a significant decrease for a player operating at nearly 60% this season.
It's not just Bledsoe and Middleton who have suffered Playoff struggles either. Despite an outer-body performance in Game 1, Brook Lopez was abysmal against the Raptors in the Eastern Conference Finals last season. After a playoff career-high 29 points in Game 1, Lopez logged only 12.8 points per game over the remaining 5 games. This season, Lopez's efficiency from 3-point territory has dropped off markedly. A season ago, Lopez shot the 3-ball at 36.5%—above league average and impressive for a 7-foot stretch five who took more than six threes a game and regularly shot the ball from several steps behind the line. This year, Lopez in under 30% and shooting almost 2 fewer threes per game. This is significant because Lopez's ability to stretch the floor reliably from the five-spot has been critical to Milwaukee's drive-and-kick offense.
Finally, it is Antetokounmpo himself who poses the greatest obstacle to Milwaukee's championship aspirations. Despite his seemingly superhuman athleticism and dominant interior finishing, Antetokounmpo is still a below-average shooter outside of the paint.
His shooting has improved this season—if not his percentages but his willingness and confidence to shoot. His 3 point attempts from above the break (directly facing the rim) are up from 191 attempts and 26.2% efficiency last season to already 234 attempts at a 31.2% clip so far in the 2019-20 season. Overall, he's taking two more three-point attempts per game (from 2.8 to 4.8 per game). He's improved confidence shooting the three is evident in the near two extra pull-ups he's taking per game (from 1.8 to 3.5 attempts per game).
Whilst these are all promising statistics and evidence of Antetokounmpo's work ethic and continued improvement, Giannis still lacks the shot creation abilities of many of the league's other superstar players. His mid-range creation is still developing. Whilst some might query the value of mid-range scoring in the NBA in 2020, you only need to look to the success of Kawhi Leonard in last year's playoffs to appreciate the benefit of having three-level scoring ability. When defenses tighten up in the playoffs, the ability to find a high percentage mid-range shot become far more valuable. Antetokounmpo is still only making shots between the paint (non-restricted area) and the 3 point arc at around 40%. And he isn't comfortable taking them. In the past two seasons, Eastern Conference teams have employed a 'wall defense' against Giannis to cut off his driving lanes and force him into taking pull-up jump shots or forcing passes to his teammates. Boston utilised this scheme against the Bucks in 2018 and Toronto again found success against Antetokounpo in last year's Eastern Conference Finals.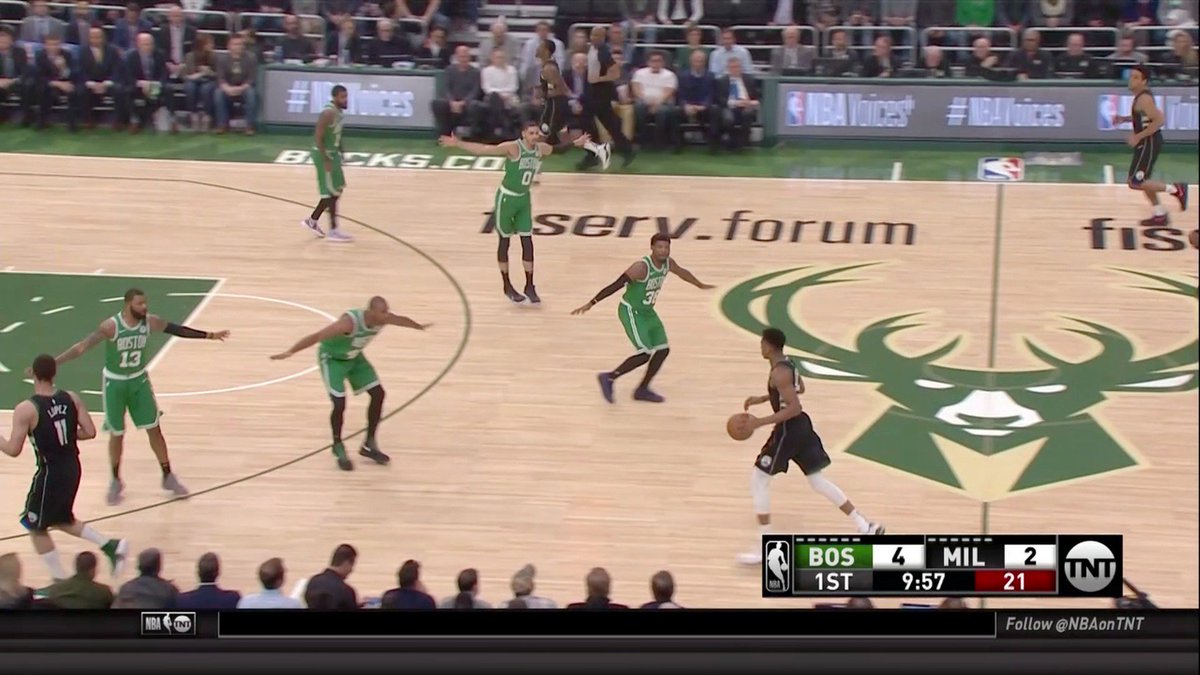 This same defensive scheme has been successful against Giannis as recently as this year's All-Star game. Even in the exhibition game scenario, Lebron's team blocked his driving lanes and dared Antetokounmpo to shoot—and he couldn't. Giannis took just one shot in the 4th quarter—a pull-up 23-footer—and he missed.
Perhaps analysing Antetokounmpo's All-Star game performance is an overreaction. But maybe it isn't. It certainly wouldn't have filled any Bucks believers with confidence.
The top of the Eastern Conference is as competitive as ever this season. Toronto, Boston, Philadelphia and Miami all possess a grouping of lengthy, switchable wing defenders to throw at Antetokounmpo and wall-off his driving lanes. If he hasn't developed a mode of overcoming these schemes, then neither will the Bucks overcome the Eastern Conference this season.
Milwaukee can only go as far as Antetokounmpo can take them. Despite his improved play this season, his body of work and persistent struggles in key areas indicates that he still isn't ready to take them all the way.
This doesn't mean that Milwaukee is a surety to sputter out in the second round or even that they can't win the title this season. But for my money, Milwaukee is still a year—and perhaps a reliable second option away from winning it all.